Roll over image to zoom in
Description
Intelligent Air Fryer: Bear Oil-Free Air Fryer XXL 5.5L
Bearcooker Make cooking easier!
【Health and Safety】: The bear's large air fryer has 360° rapid hot air circulation technology, which can make healthy and crispy food, with at least 85% less oil or fat than a traditional fryer. The air fryer has an overheating protection function. When the internal temperature reaches 250°, the air fryer will automatically power off.
1. Rapid heating of the air through the upper cooking device
2. Heat flow is rapidly circulated in the food basket by a high-power fan
3. A special pattern on the inside of the food basket creates a swirling heat flow that touches the food surface 360 degrees in all directions to quickly remove the water vapor produced by heating.

These three functions work together to form a crispy golden layer on the surface, bringing the deep-fried flavor.
【Smart Touch LED】:
7 Menu Options | Air Outlet | 80-200°C Temperature Control | Timer Control
【Smart LED screen touch control & 7 Preset menus】: Just tap a preset to automatically set the temperature and time using the built-in touch screen menu, including 7 cooking presets: French fries/fries, bacon, chicken, steak, shrimp, cake, and fish. You can also adjust the temperature from 180°F to 400°F and set a 60-minute timer to not only fry frozen chicken and french fries, but also fry yesterday's desserts.
Bear Oven Oilless Cooker can cook a variety of food. With 7 preset menus, you can fry, bake, toast, dehydrate, etc. Multi-cooking technology air fry, bake, grill, roast, reheat, dehydrate, and toast, all in the same device. The control panel is a large LED touch screen, one-button selection of menus icons, easy to operate, very suitable for beginners. And the temp & time can be easily adjusted by ▲/▼ signs. Auto shut off function prevents overcooking.
【Enough food for family dinner】: 6-quart XL 5.5L XL air fryer basket can use for 2 bags of french fries, 4 pounds of butter chicken, more than 2 pounds of chicken wings,600g French fries | 25g * 10 cupcakes | 8-inch cake | 300g shrimp | Bacon * 6
1000g whole chicken * 1 | chicken wings * 16 | 100-150g steak * 2 | 300g fish * 2 | 8-inch pizza etc. to do a lot of cooking.
Size: 12.36 inches x 14.92 inches x 12.83 inches, the air frying basket can hold up to 9 inches round x 3 inches deep bakeware or bakeware. The content of ingredients must not exceed 4.4lb (2KG).
【Easy to clean detachable non-stick basket】: A PFOA-free detachable basket, all detachable parts are easy to clean and dishwasher-safe. After making a piece of cake, it is without any oil stains. The cool-touch handle makes it safe to use.
【A removable button】: with a single push, the basket splits in two, making it easy to remove food and isolate the oil while cooking it.
Cleaning is also easy, just put it in the dishwasher after cooking. 
【Additional Accessories and Recipe Manual】: Equipped with a skewers grill and 5 skewers, a step-by-step recipe manual and non-toxic, hygienic, oil-proof, waterproof parchment paper, you can expand your cooking capacity and cook more food immediately. UL&ETL safety technology certification and long-lasting durability. Any questions will be resolved as soon as possible! We have perfect after-sales service, you can contact us at any time and we will reply to you within 24 hours.
【Full touch screen operation】:  8 common menu functions, a custom menu, the buttons can also be combined.

【360 rapid air heat circulation】:  Oil-free and smoke-free healthy diet.
 No oil Smoke easy to fry .Eat healthier, cook easier, live happier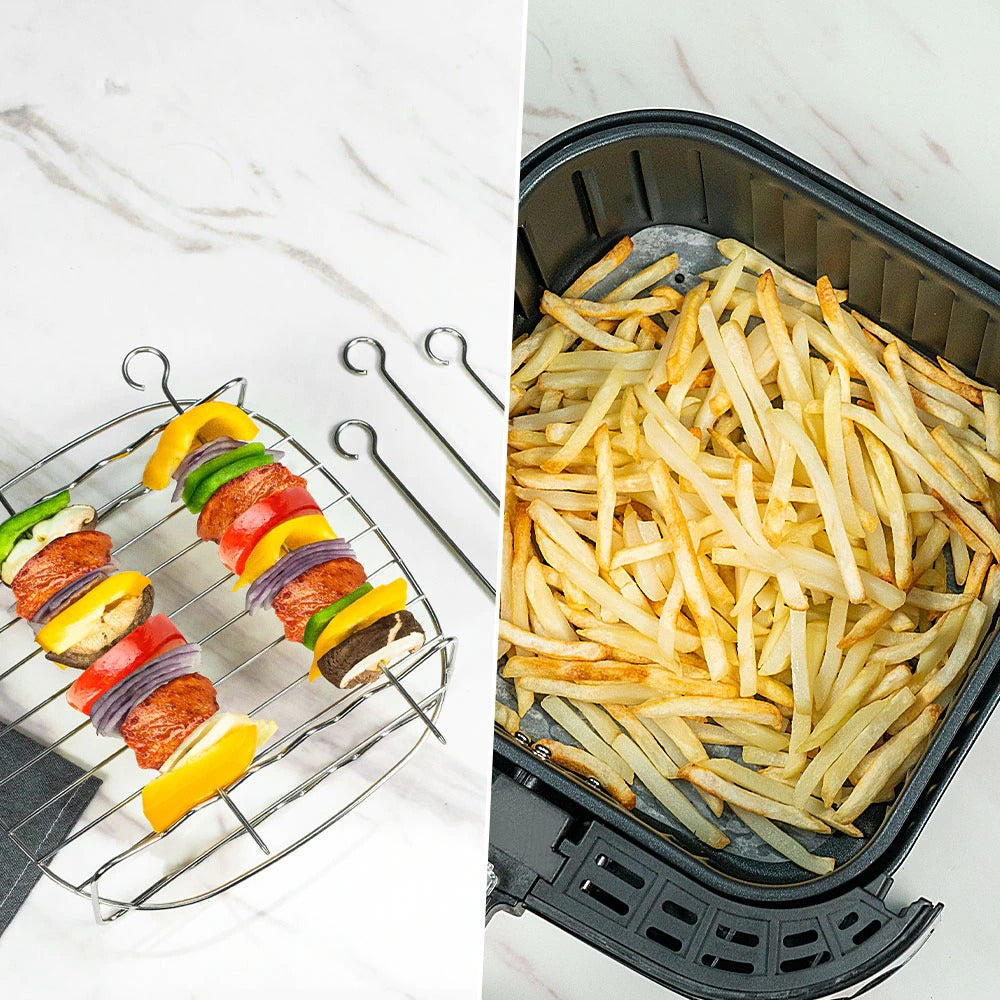 Features and Description
220-240V 50 / 60HZ, 1250W
Capacity: 5.5L non-stick coating;
Timer: 30-minute timer
With alarm/indicator
temperature control: 80-200 centigrade
Automatic shutdown
s / s 304 heating element
With overheat protection function
Brand
Bear
Model number
TXG-S5T20 Air Fryer
Color
Black/Stainless steel
Feature
LED display
360 ℃ Overall hot air circulation
Adjustable thermostat control
Non-stick cooking surface
Overheating protection
What's in the box?
1 * Bear Air Fryer 5.5L
1 * Fryer Basket & Drawer
1 * Skewer Rack & 5* Skewers
1 * User Manual
1 * Perfect Package
Payment & Security
Your payment information is processed securely. We do not store credit card details nor have access to your credit card information.