Roll over image to zoom in
Description
Best air fryer 2021: Bear air fryer 3.5L
If you want buy it on Amazon ,and 20% off code is 62XVLT4Z,and the link is https://amzn.to/3BDCVtk.
Knob control makes the air fryer easy to cook chicken, chip, or stick, if you are looking for air cookers, this will be your best choice!

Enjoy meals that are juicy on the inside & crispy on theoutside. Bear Air Fryer Make cooking easier!
Give you and your family more time and health!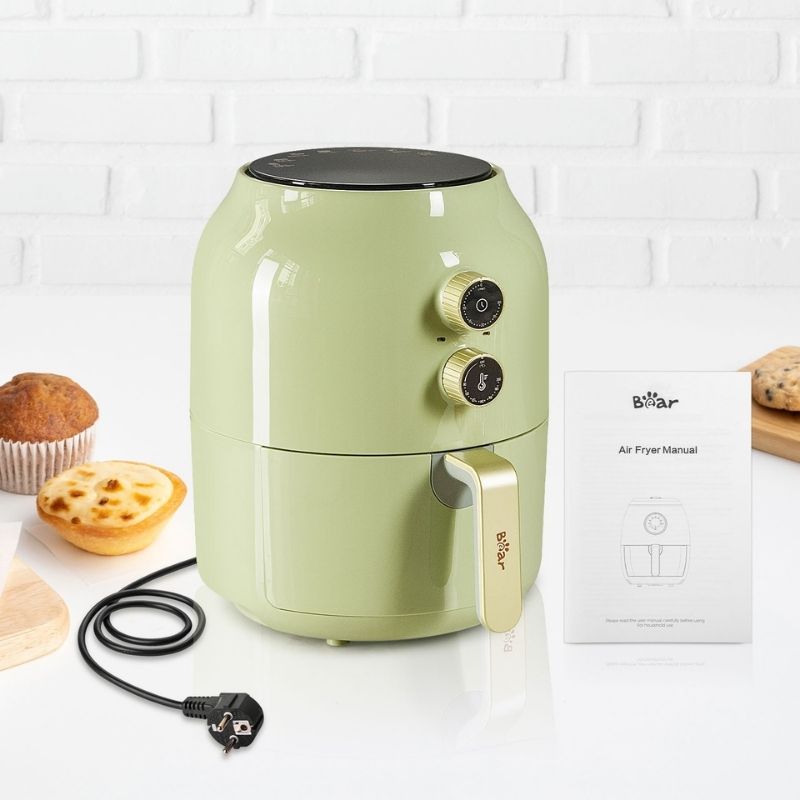 Provide Convenience To Your Family: Large capacity of 3.5L, very suitable for family use of 2-3 people. Compared to the normal Deep Fryer, Bear the Oil Free Air Fryer can reduce the amount of fat during the cooking process. When using an air fryer, you can make your dishes more delicious and speed up the speed of dinner preparation. It cooks faster with 85% calorie reduction, useful for frying, roasting, and grilling.
Large Capacity & Multifunction: 7 Usage programs, Satisfy your daily kitchen use, make cooking easier! The best choice for making healthy food for your family every day
Easy to use: 2 round buttons, just turn the temperature and timer knobs according to the food, the delight will be served immediately at your table. Retro green color, simple and beautiful, make your kitchen more attractive.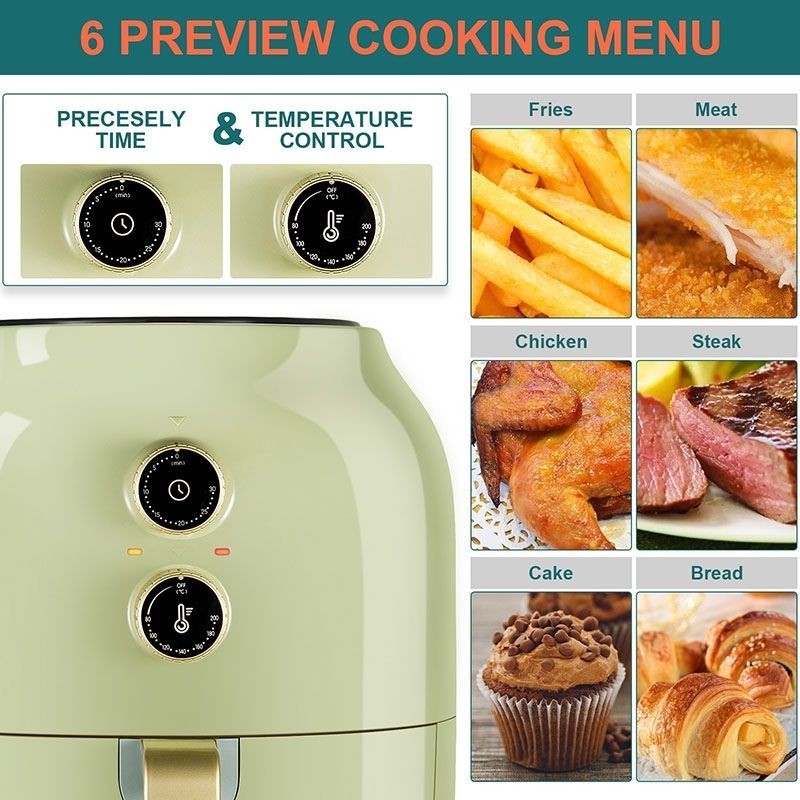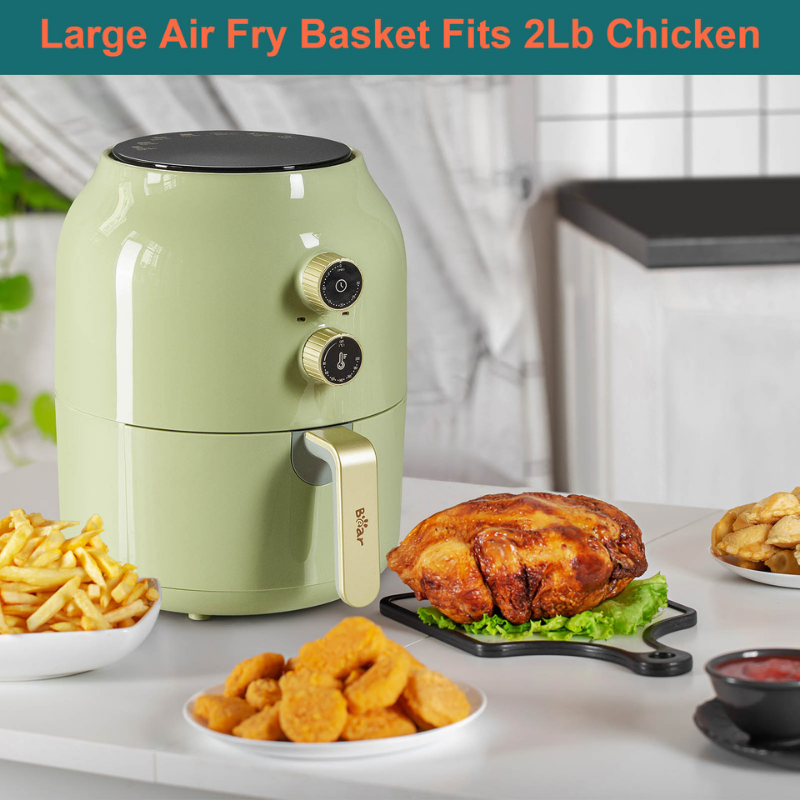 Healthy and delicious: Bear Air Fryer 360 ° cooking with hot air, make fries crispy steak becomes tender and juicy. 85% calorie reduction, In addition to bringing you delicious food, it also guarantees your health.
Great After Sales Service & Certification: Bear Air Fryer has Auto-shutdown protection, BPA PFOA Free. With multiple certifications like CE / ROHS / EMC / GS / CB / ERP / LFGB / ETL, so you can use it with confidence. If you have any questions about Air Fryer, please don't hesitate to contact us.
Main Features:


● Healthy Frying: achieve perfect fried results with little or even no oil
● Always Crispy: perfect crisp system, make food crispy on the outside and moist and tender on the inside
● Mechanical Knob: simple dial control makes it easy to adjust the temperature.
● Easy to clean: removable fryer basket use non-stick coating, easy to clean.
● Great Gift: a perfect healthy gift for your lovers.
● Power air fryer: 3.5L 1350W

Specification


Brand: Bear
Model: VS-8083A(QZG-A14M1)
Color: Light Green
Heating Tube Material: Stainless Steel
Rated Voltage: 220V50Hz
Rated Power: 1350W
Capacity: 3.5L

Control Mode: Mechanical Knob
Heating Method: 360° Cycle Heating 
Opening Method: Pull Type
Automatic Power Off Memory: Yes


Highest Timing: 30mins


Temperature Range:80-200℃

Dimension

Package Weight: 4.5kg 
Product Size:  31.00 x 26.70 x 34.50 cm 
Fried Basket Size: 20.40 x 19.80 x 10.05 cm 
Grease Trap Size: 20.30 x 19.70 x 0.30 cm 

1 x Host


1 x Grease Trap


1 x Fried Basket 


1 x Manual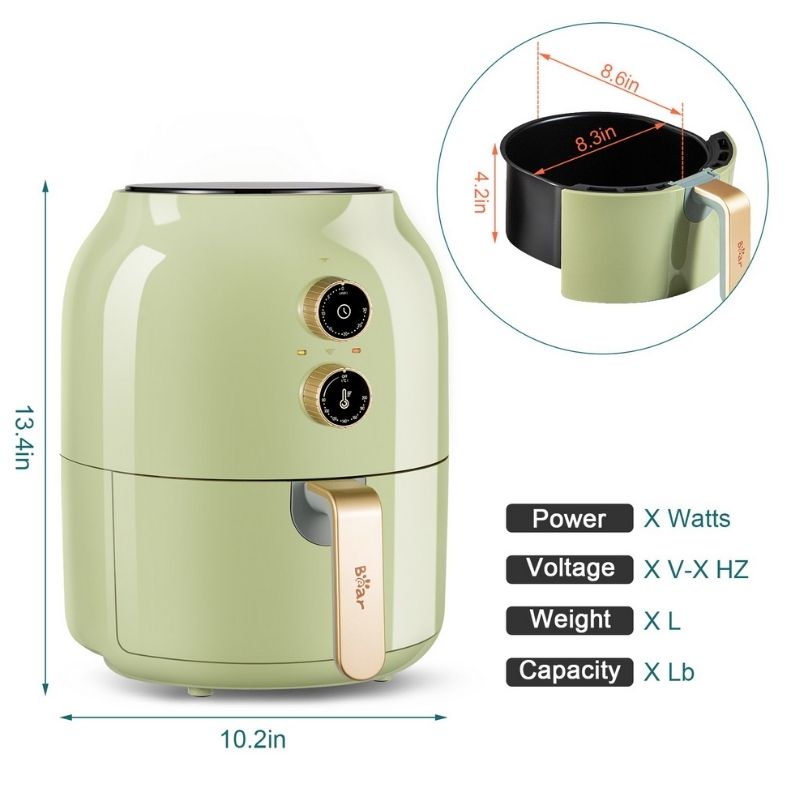 Payment & Security
Your payment information is processed securely. We do not store credit card details nor have access to your credit card information.