What if I told you that you could get crispy and juicy ribs in under 20 minutes? Well it's true! My recipe for Air Fryer Pork Ribs is full-proof, fast, and flavorful.
Tips for Making Pork Ribs in the Air Fryer
Take your ribs out of the fridge and allow them to reach room temperature before placing them in the air fryer. Introducing fresh-out-of-the-refrigerator ribs into the high heat of the air fryer will shock the meat and can result in uneven cooking. 
Before adding seasoning or sauce, make sure to pat your ribs dry with a paper towel. This ensures that they will absorb your marinade better!
Don't overstuff the air fryer. Make sure the ribs lay flat and there is no overlapping to make sure they cook evenly. 
Take a BBQ brush and slather the drippings at the bottom of the fryer on your freshly cooked ribs. 
Are you a fan of extra crispy, rib crust? Slather on some extra marinade to the ribs after you have cooked both sides and let them cook for 3-5 minutes longer top-side up. 
Craving a more classic barbeque-style flavor? My secret weapon for emulating that fresh-off-the-grill flavor is using liquid smoke. Slather on your favorite BBQ sauce and add a couple of drops of liquid smoke to the mix.
3

 

lb

 

pork ribs

 

(have your butcher cut them into baby size pieces)

1

 

cup

 

soy sauce

1/4

 

cup

 

sesame oil

1/3

 

cup

 

brown sugar

5

 

garlic cloves
Instructions
Place pork ribs into a ziplock bag. Add brown sugar, garlic, soy sauce, and sesame oil and lock the bag. Massage the ingredients together to mix in the marinate.
Leave pork ribs marinating for at least 8 hours, best to leave them overnight.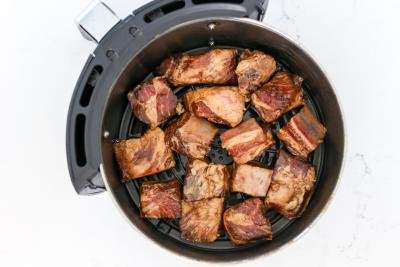 Place one row of pork ribs into an air fryer basket. Air fry them at 400F for 18-20 minutes, depending on the size. Halfway through, open the basket and toss them to make sure all the sides are crispy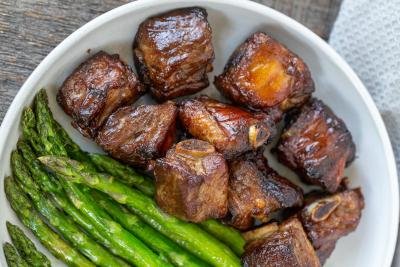 Serve Korean Pork Ribs hot or cold. You can always reheat leftovers in an air fryer for 2-3 minutes.