Air Fryer white fish is healthy, easy and always delicious. There's so much to love about this quick and easy low carb fish recipe in the air fryer. You can use any white fish you like. We tested this air fryer tilapia recipe for our test kitchen and they loved it! 
How to Cook White Fish in Air Fryer 
Rinse and pat dry the fish. Season with salt, pepper, garlic powder or your preferred spices.
Lightly spray the air fryer basket/rack or lay a

 

perforated parchment sheet.
Air fry until it's to your preferred texture. More recipe details in the recipe box below.
INGREDIENTS
12 ounces (340 g) tilapia filets , or other white fish (2 filets-6 ounces each)
1/2 teaspoon (2.5 ml) garlic powder
1/2 teaspoon (2.5 ml) lemon pepper seasoning
1/2 teaspoon (2.5 ml) onion powder , optional
kosher salt or sea salt , to taste
fresh cracked black pepper , to taste
fresh chopped parsley
lemon wedges
Pre-heat Air Fryer to 360°F for 5 minutes. Rinse and pat dry the fish filets. Spray or coat with olive oil spray and season with garlic powder, lemon pepper, and/or onion power, salt and pepper. Repeat for both sides.
To help sticking, lay perforated air fryer baking paper inside base of air fryer. Lightly spray the paper. (if not using a liner, spray enough olive oil spray at the base of the air fryer basket to make sure fish does not stick)
Lay the fish on top of the paper. Add a few lemon wedges next to fish.
Air Fry at 360°F for about 6-12 minutes, or until fish can be flaked with a fork. Timing will depend on how thickness of the filets, how cold the filets are, & individual preference.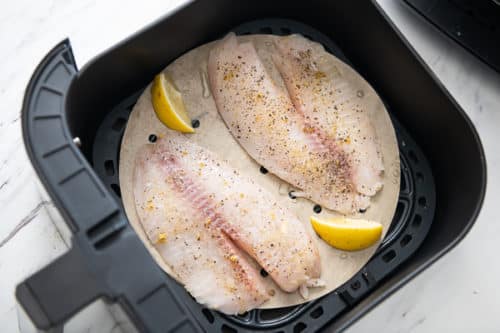 (optional) Sprinkle with chopped parsley and serve warm with the toasted lemon wedges.