WHAT IS SOUVLAKI?
Souvlaki is a popular Greek fast food and literally means "meat on skewers". Chicken souvlaki, then, is pieces of chicken that are grilled on skewers. What makes souvlaki really memorable is the delicious Mediterranean herb, garlic and lemon marinade that gives it so much flavor. And while traditionally souvlaki is grilled and served in a pita, you can use your air fryer with similar results and serve it in a pita or on a dinner platter with rice, Greek potatoes and a salad or green vegetable for a delicious meal. 
MARINADE FOR SOUVLAKI
The marinade for chicken souvlaki is very simple. It consists of lemon juice, white wine, olive oil, garlic and more herbs that you might be accustomed to using in a marinade. Most souvlaki recipes call for minced garlic, but I prefer to smash my garlic cloves instead so that the garlic flavor doesn't overpower all the other flavors. 
MARINATING TIME FOR SOUVLAKI
You don't need a long time to marinate the chicken for souvlaki. A minimum of 2 hours is good and as long as 12 hours is great, but because we're using chicken (which is more delicate than pork, beef or lamb) and the flavors of the marinade are so strong you can get away with a shorter marinating time.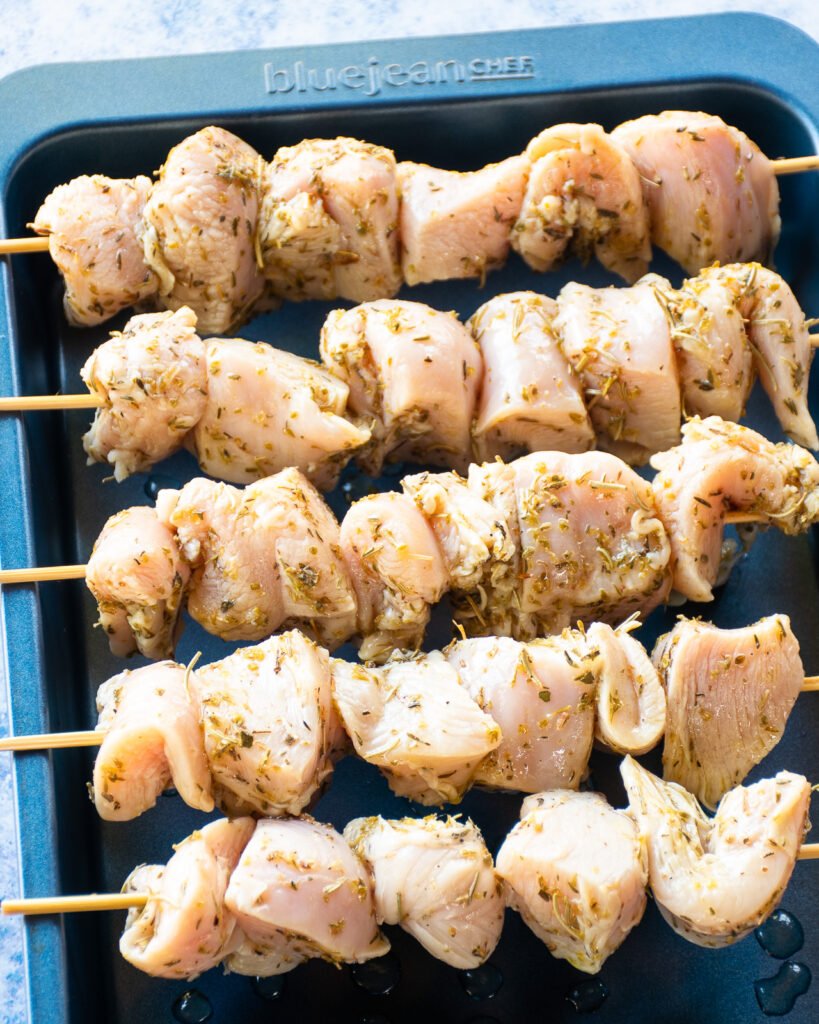 AIR-FRIED CHICKEN SOUVLAKI
Most people think of an air fryer as a way to replicate deep-fried foods, but it does a great job of replacing your grill too. Obviously, the skewers are super important if you're grilling the chicken – so you have a way of turning the chicken without losing the pieces through the grill grates. In the air fryer, however, because the chicken will cook in a basket, you can choose to skewer the chicken or not. If it's easier and you don't intend to hand your guests a skewer of meat, you could just toss the marinated chicken cubes into the air fryer basket instead. They'll take about 12 – 15 minutes in the air fryer at 400ºF, with a toss halfway through the cooking time.
Chicken Souvlaki - Air Fryer Version
INGREDIENTS
2

 

TABLESPOONS

 

olive oil

5

 

CLOVES

 

garlic

 

smashed

¼

 

CUP

 

white wine

Juice of one lemon

1

 

TABLESPOON

 

dried oregano

1½

 

TEASPOONS

 

dried thyme

1½

 

TEASPOONS

 

dried rosemary

4

 

boneless skinless chicken breasts

 

cut into 1½-inch pieces

Wooden or metal skewers

Salt and freshly ground black pepper
INSTRUCTIONS
Soak 8 wooden skewers in water.
Combine the olive oil, garlic cloves, wine, lemon juice and dried herbs in a non-reactive bowl (glass or plastic). Add the chicken pieces and let the chicken marinate for 2 to 12 hours in the refrigerator.
When you are ready to cook, skewer the chicken pieces onto the soaked skewers. Transfer the skewers to the air fryer and air-fry at 400ºF for 15 minutes, turning the skewers over once during the cooking process.
Serve the chicken souvlaki skewers with tzatziki sauce, Greek potatoes, rice and a Greek salad or wrap the chicken pieces up in a pita bread with some tzatziki sauce with cucumber and tomato.