Air Fryer Sweet Potato Fries are a lighter alternative to deep fried sweet potatoes side dish with less calories, less fat, & cooked in less than 15 minutes
Start with two medium size sweet potatoes and try to look for ones that are not too long. This way you can use the full length of the sweet potatoes as the length of the fry. Remember that these air fryer sweet potato fries will shrink after cooking, so look for a shape slightly longer than the ideal fry length.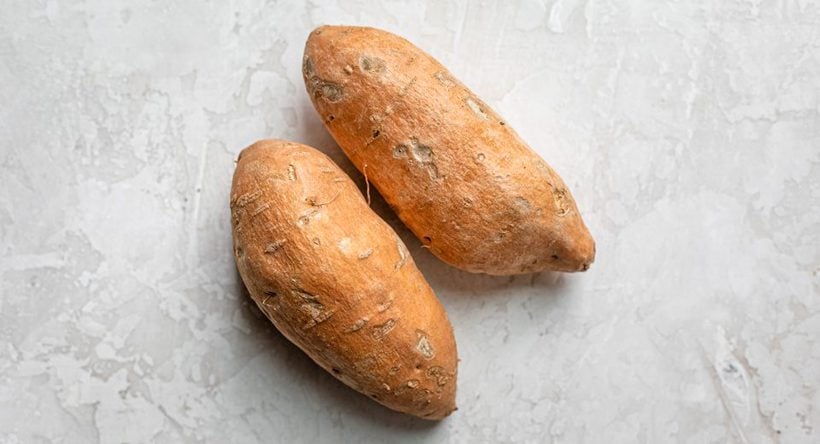 The thinner you cut them, the more crispy they will be. I recommend that you cut them 1/4-inch to 1/2-inch thickness.
I toss it with just a teaspoon of olive oil, along with garlic powder, paprika, salt and pepper. Use your hands to make sure each fry is coated well with the seasoning.
Then place the sweet potatoes into the air fryer basket, making sure not to overcrowd them. At the halfway cooking point, shake the basket to make sure they are cooking evenly, and then continue cooking. Each air fryer is different, so you may want to watch the first batch to make sure that the cooking temperature and time yield the results you're looking for.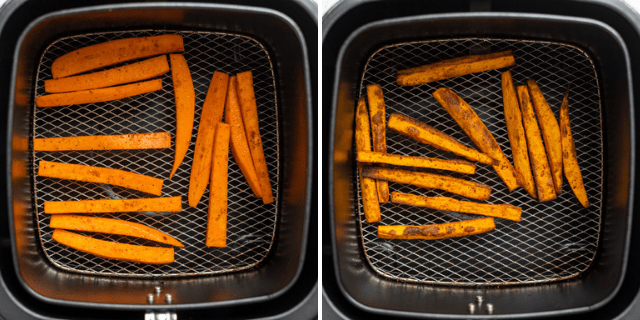 INGREDIENTS
2

 

medium sweet potatoes

 

peeled

2

 

teaspoons

 

olive oil

½

 

teaspoon

 

salt

¼

 

teaspoon

 

garlic powder

¼

 

teaspoon

 

paprika

⅛

 

teaspoon

 

black pepper
INSTRUCTIONS
Preheat the air fryer to 380°F. Peel the sweet potatoes, then slice each potato into even ¼ inch thick sticks.

Place the sweet potatoes in a large mixing bow, and toss with olive oil, salt, garlic powder, paprika and black pepper.

Cook in 2 or 3 batches, depending on the size of your basket without overcrowding the pan until they're crispy. I recommend 12 minutes, turning half way. This may vary based on your air fryer.

Serve immediately with your favorite dipping sauce.