Air fryers offer a versatility that a lot of other appliances don't. You can roast vegetables, cook chicken, hard-boil eggs, and even cook frozen food, like these Air Fryer Dumplings.
I've tried cooking dumplings and gyoza by pan steaming and they just don't come out as crispy as I like. Air frying frozen dumplings makes them extra crispy while keeping the insides fresh and hot.
HOW TO MAKE AIR FRYER DUMPLINGS
Preheat your air fryer to 370 degrees for about 4 minutes.
Place dumplings inside of air fryer in one layer and spray with oil using an  Oil . The dumplings can touch but should not be stacked.
Keeping the food in an even layer allows for more even cooking. If stacked, they can start to stick together and now brown up to the crispy pot stickers they should be.
Cook the dumplings for 5 minutes, shake the basket then spray with a little more oil. I find this helps them keep from getting dry. You can skip this step if you find your frozen dumplings don't appear dry at all.
Cook the dumplings for an additional 4-6 minutes until they are golden brown on top.
Remove the air fryer dumplings from the basket and let sit for 2 minutes.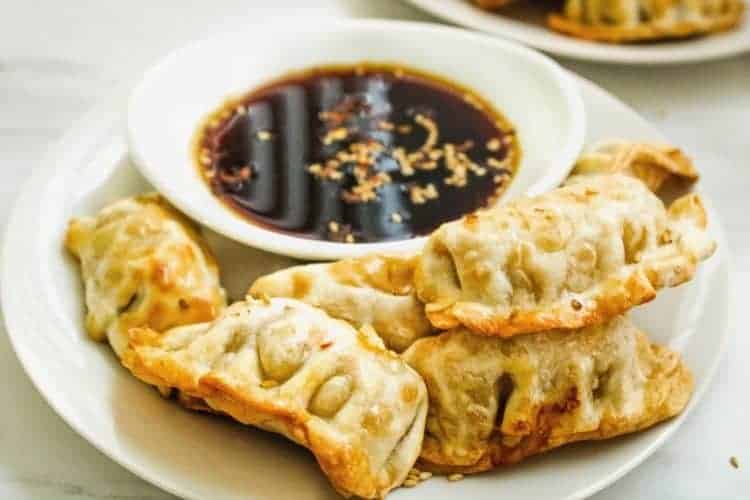 HOW TO PREPARE THE DUMPLING DIPPING SAUCE
This is a super simple sauce I make while the dumplings are cooking. It can be made in literally 2 minutes when all ingredients are out and on the counter.
Place the soy sauce, water, maple syrup, garlic powder, rice vinegar, and red pepper flakes in a bowl and whisk together. Add in sesame seeds if desired.
That's it!
You can also swap the maple syrup for molasses in a pinch if you are out of real maple syrup.
Serve the dipping sauce alongside the Air Fryer Frozen Dumplings and enjoy!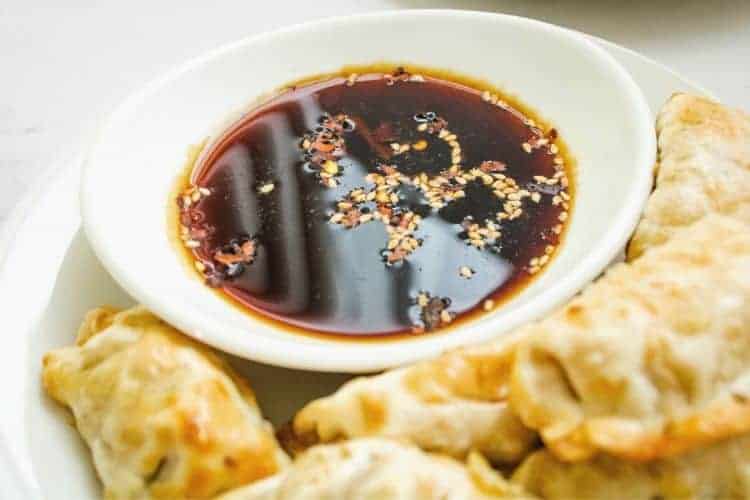 HOW LONG DO YOU COOK POTSTICKERS FOR IN AN AIR FRYER?
Frozen dumplings, just one kind of potstickers, are best cooked at 370 degrees for 9 to 11 minutes.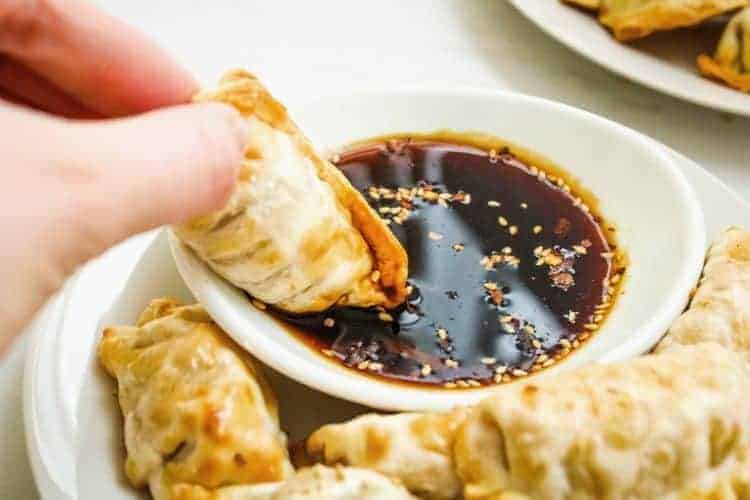 INGREDIENTS
DUMPLINGS
8 ounces frozen vegetable, pork, or chicken dumplings
DIPPING SAUCE
1/4 cup soy sauce
1/4 cup water
1/8 cup maple syrup (or molasses)
1/2 teaspoon garlic powder
1/2 teaspoon rice vinegar
small pinch of red pepper flakes

INSTRUCTIONS

Preheat your air fryer to 370 degrees for about 4 minutes.
Place the frozen dumplings inside the air fryer in one layer and spray with oil.
Cook for 5 minutes, shake the basket, then spray with a little more oil.
Cook dumplings for another 4-6 minutes.
Meanwhile, prepare the dipping sauce by mixing ingredients together.
Remove the air fryer dumplings from the basket and let sit for another 2 minutes before enjoying