These air fryer bacon wrapped jalapeños will be an instant hit in your home! They're stuffed with a taco cream cheese filling and you might want to double the recipe – or you'll end up eating them all yourself!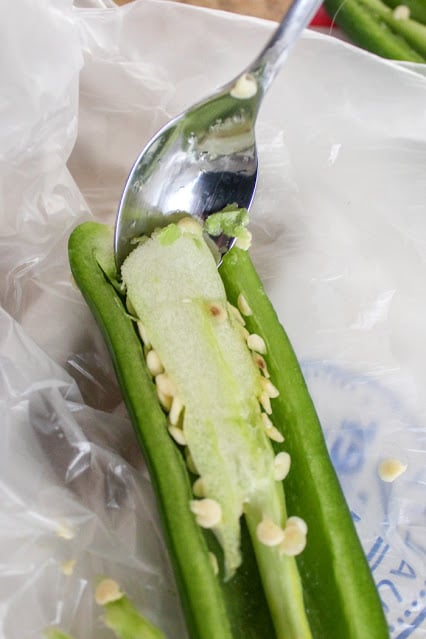 Are bacon wrapped jalapenos spicy? 
As I mentioned above – they're surprisingly NOT spicy! When you clean your jalapenos – I used a small spoon to scrape out the rips and seeds and that's where the spicy is. So really – if you want them to be spicy – leave in some seeds or add some spicy ingredients to your filling!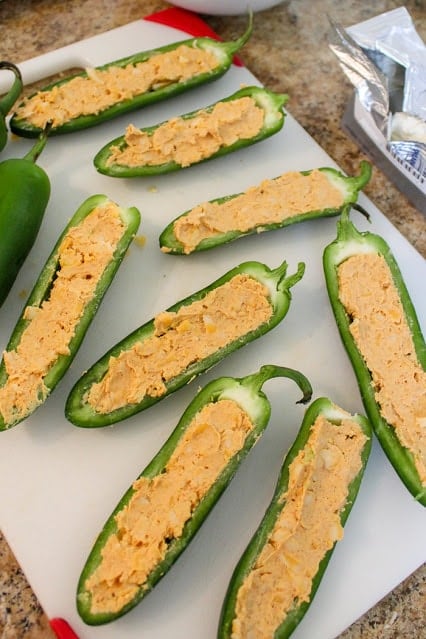 Can you make bacon wrapped jalapeños ahead of time? 
Yes! The jalapenos are raw so they hold up well in the refrigerator. You could easily fill them with cream cheese and wrap them with bacon and refrigerate for a day.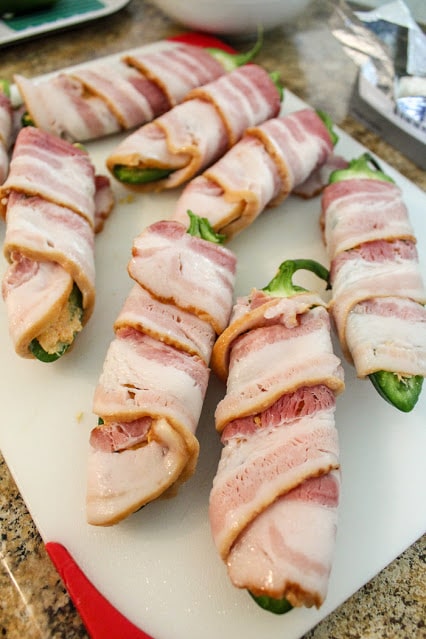 How to make bacon wrapped jalapenos in the air fryer? 
They're surprisingly easy and go pretty quickly. First – slice the jalapenos in half – keeping the stem on so the filling doesn't ooze out. Then, using a small spoon as shown above, scrape out the ribs and seeds. 
Then make your filling – you'll want your cream cheese to be softened – so leave it out for at least an hour. For 8 jalapenos – I only used 1/2 brick of cream cheese. I mixed in CoJack cheese and taco seasoning and spread the mixture into the jalapeno shells. 
After that – wrap them tightly with bacon. The jalapenos I bought were REALLY long – so it took one slice of bacon for each pepper half. Don't cheap out either – the bacon is such a great component to the dish – so be sure to get good bacon! You don't need toothpicks or anything – just start on the bottom of the pepper and pull it tightly as you wrap it! 
INGREDIENTS:
1/2 block cream cheese, softened
1/2 block cojack cheese, shredded
2 tbsp taco seasoning
8 slices bacon
INSTRUCTIONS:
Slice jalapenos in half lengthwise – keeping the stem in-tact
Using a small spoon scrape out ribs and seeds from jalapenos and discard. 
In a bowl, mix together softened cream cheese, cojack cheese and taco seasoning. You may want to use a small hand mixer for this step. 
Using the same small spoon, fill the jalapeno halves with the cream cheese mixture. Once filled, smooth out the top so it's even. 
Take a slice of bacon and wrap around the jalapeno half – start at the bottom underneath of the pepper and pull tightly in an angle around the pepper so you also finish on the bottom of the pepper. 
Place the jalapeno halves in the air fryer. Baste them with your favorite BBQ sauce. I like Williamson Brothers because it's a thin sauce with tons of flavor – it adds such a punch – you'll love it!
Air fry at 375 at 14 min