If you love bacon AND corn, our simple air fryer bacon wrapped corn on the cob recipe perfect. The combination of flavors is amazing, as every bite of corn has bacon. Seriously, the flavors and textures are great and very similar to grilling without all the fuss and clean-up
TIPS FOR AIR FRYING BACON WRAPPED CORN:
Cooking times will vary depending on the size of the corn and the size of your air fryer. So if you're unsure, try cooking maybe 1-2 corns first and test the time that works best for your preferred corn texture. Don't cook a whole big batch on your first try. You might end up with a batch that you don't like.
If you're using a thick-cut bacon, cooking time will be a little longer
You can wrap up to 3 pieces of bacon per whole fresh corn. Though the bacon will overlap, once it cooks it will shrink.
INGREDIENTS
2-4

 

ears

 

fresh corn

 

, shucked and cleaned

2-8

 

slices

 

bacon

 

, depending on how much corn & if you do double bacon or not

salt

 

, to taste

black pepper

 

, to taste

oil spray

 

or olive oil
Cut end of corn to fit air fryer basket. If needed for smaller air fryer, cut the corn in half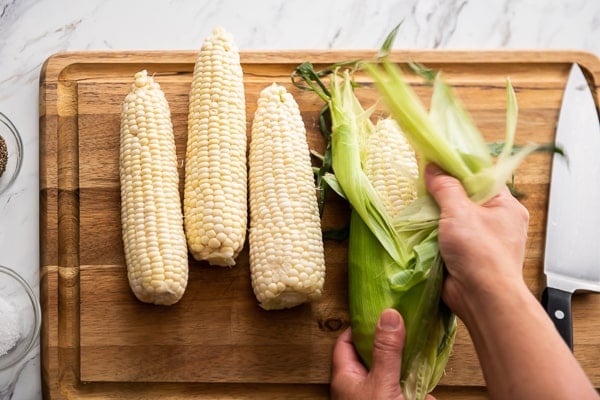 Coat all sides of the corn with light oil spray (if you're using only 1 bacon strip/ear). If needed, make sure to spray the ends of the corn is where it can often get dry.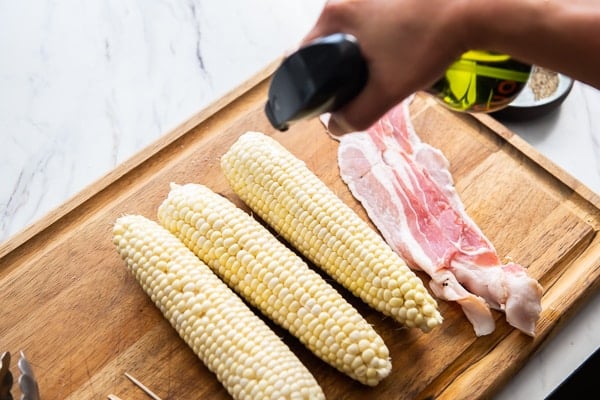 Wrap bacon around the corn. Skewer one toothpick to secure each end of bacon to corn. Skewer the toothpick side-ways into the corn and bacon so it does't stick up too much. (see our photos for the technique).
For 2 corn - Air Fry at 380°F for 12-16 minutes, flipping halfway.
For 4 corn - Air Fry at 380°F for 14-20 minutes, flipping halfway. Cook until bacon is crisp and corn is tender. (Cooking time will depend on size of corn, how full air fryer basket is, & different models/sizes of air fryers).
Remove toothpicks before eating. Add butter if desired and enjoy!